Terms and Conditions

FIRST TIME SEEING US:
Please arrive 5 minutes before your appointment start time. For all first time clients, prior to your session, please make sure to have your consult form filled out. Log into Client Portal to fill out your Skin Discovery Form.

HOW TO FIND US:
We are located at Unit 202, 2515 Burrard Street, V6J 1Y1, inside The Art Of Hair. When you arrive, please enter "The Art of Hair" Salon and wait at the entrance. If the door is locked, please call us and someone will come unlock the door for you to enter.

PARKING:

Please add minimum 15 mins to your session to allow enough time for check out and back to your vehicle.
If there is an application for paid parking, have it on your phone in case you need to add time.
There is:
Free 2 hour parking on residential side areas along West 11th (this side) near Burrard and onward (seen in orange arrow). If your session time is less than 2 hours, okay to park here.
Paid parking at Impark Parking (Prospect Centre- Lot#1386, 1788 West Broadway) (seen in green arrow).
Paid street parking along West Broadway & Burrard St. (If there is app available for city parking, have that on your phone in case you need to add time)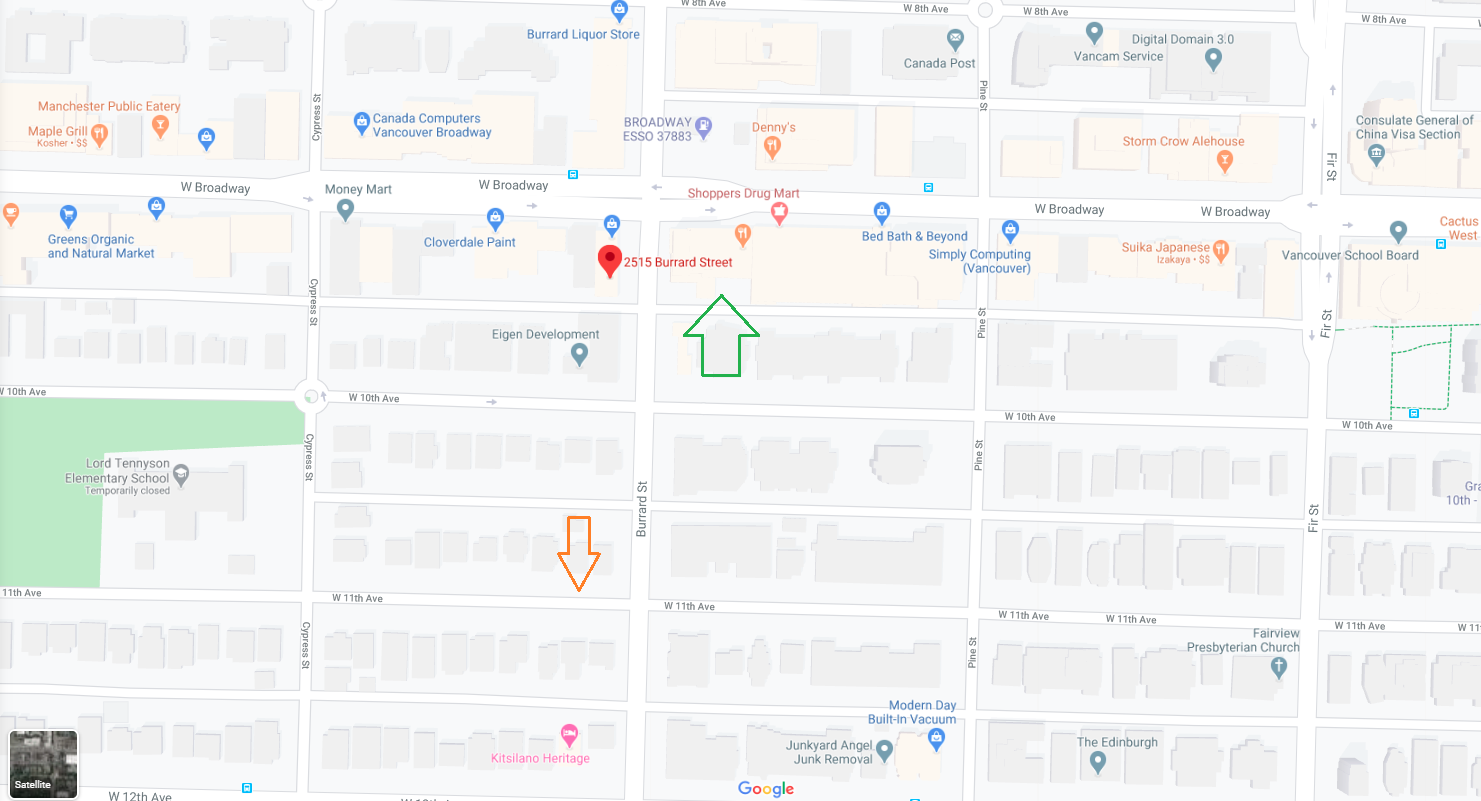 CANCELLATION/RE-BOOK/NO-SHOWS:

A minimum of 24 hour notice is appreciated to avoid a support service cancellation/no-show fee charged to the credit card to your account. No exceptions. The fee will help support the continued operation of Dermaly Skin Wellness. Services and prices are subject to change.

When cancelling your appointment in advanced, please log into your client portal. Email notifications will have a time stamp which will be reviewed for reference. Any voicemail notice may not be 100% recieved as cancellation in the case it does not reach us.

Late Arrivals:
We strongly believe in our clients receiving the optimal benefits from their treatment session for the fully booked time. If the appointment start time is more than 10 minutes late, and depending on circumstances, we may be forced to shorten or reschedule the appointment.
PAYMENT OPTIONS:

If you are paying for your session with the following below, please see what fees may apply:
Cash (no fees)
Credit Card (3% processing fee applied to total)
Debit (Flat Fee $3.00)

Thank you for your consideration. We look forward to seeing you!