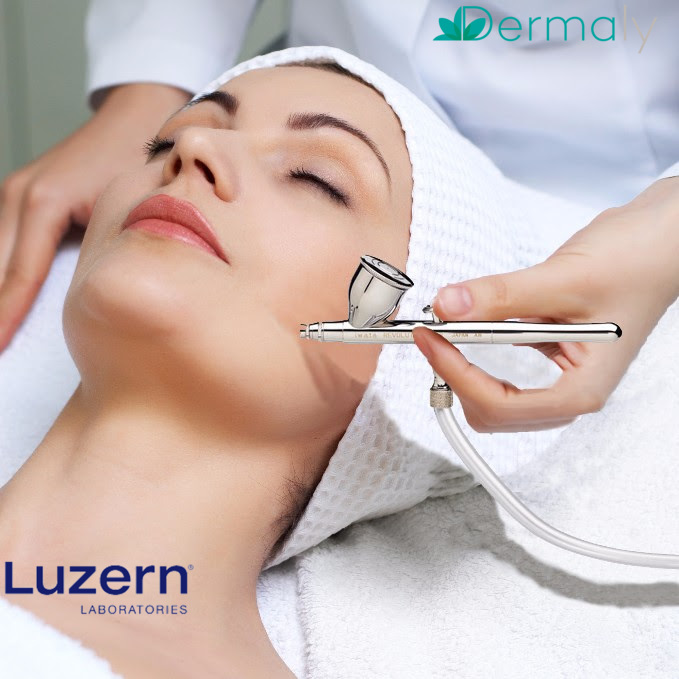 Delivering Transformative Results
Luzern Laboratories delivers uncompromising product performance with their proprietary AlpPure™ blends of natural organic BioSuisse bontanicals harvested from the Swiss Alps and cosmeceutical grade ingredients that are processed using clean, cold processing methods free of toxic additives and irritants. Top active ingredients found in the Luzern Skin Care Line are:
Biodyne TRF: Builds Collagen, Elastin and Hyaluronic Acid levels in the skin
Biodyne H202: Reduce redness and irritation, protects skin cells from UV damage, boost skin regeneration.
Swiss Apple Stem Cells: Increase longevity of cells, boost skin regeneration, anti-wrinkle effects.
Cyclopeptide-5, Argireline: Fights wrinkles, reduces depth of wrinkle, repairs skin and increase collagen production.
Coenzyme Q10: Reduce wrinkle formation, improves tone, texture and firmness in the skin.
Hyaluronic Acid: Naturally found in every cell in the body, helps skin stay smooth and plump.
Niacinamide (Vitamin B3): Strengthen outer layer of the skin to prevent acne breakouts, anti-inflammatory, reduce wrinkles, alleviate Rosacea symptoms.
Resveratrol: Found in red grapes, a powerful anti-oxidant that improves skin renewal


What Is In This Treatment?
Cleansing
Ultra gentle cleansing to rinse away surface oils and impurities without stripping or drying the skin- Free of sulphate, soap, fragrance and dyes.

Tone
Prepare and restore the skins' suppleness, with Hyaluronic Acid and Pure Zermatt Glacial Water with Minerals

, and

to receive maximum benefits from the products that follow

Exfoliation
Option 1) Erase away dulling skin, excess oils and impurities to expose radiant skin with a scrub. Option 2) Enzyme exfoliation customized to the clients' skin type. Powerful combination of pumpkin enzyme, hyaluronic acid and olive-derived squalene dissolves surface impurities, and hydrates for brighter and supple skin.

Alpine Pressure Ritual
Gentle and calming facial massage that focuses on helping to relieve headache, eye and jaw tension while detoxifying and improving circulation in the skin.

Serum Application
Customized serums to target correction of skin condition.


O2 Infusion with PureBlue Oxygen Machine and Oxygen Dermal Complex
Restore the skin with oxygen infused vitamins and minerals.

Application of Moisturizer, Eye Cream and Sunblock
Seal in all active ingredients and protect your skin investment
What is Oxygen Dermal Complex?
We treat the skin with a state-of-the art yeast (derived from plants) fermentation to increase uptake of oxygen to skin cells with vitamin peptides, multi-minerals and anti-irritant, anti-bacterial plant extracts.
Top Active Ingredients Found In The Dermal Complex:
Hyaluronic Acid, Organic Aloe Barbadensis Extract, Biodyne TRF, Swiss Mountain Water, Vitamin A,C & E Peptides, Organic Buddleja Davidii Extract, Organic Thymus Vulgaris Extract, Organic Edelweiss Extract, Magnesium, Copper, Iron, Zinc


The O2 Glow Benefits
Stimulates collagen synthesis
Energizes tired looking skin
Firms and soothes skin surface texture, leaving the skin more supple and hydrated
Diminishes the appearance of fine lines and wrinkles
Helps strengthen the skin barrier (surface of the skin) function to improve hydration
Speeds healing of sensitive/reactive skin
Deeply penetrates with a super cocktail of vitamins

Contact Us

Ready to Book An Appointment? Click here to book online. If this is your first time with us, choose First Time Visit. To find out more about our Vancouver skin spa's facials, don't hesitate to contact us through our contact form