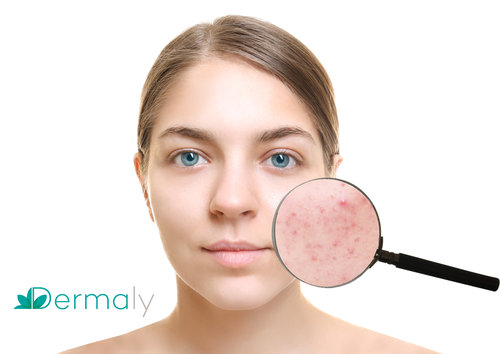 Get serious about clearing up persistent acne! The Power Detox features a double deep cleansing action with a sauna heated mask with our Catio Vital Machine plus Pore Cleanse and Enzyme Peel to detox pores, break away excess oils and shine on the surface of the skin, and reduce active acne. While ionization and O2 Infusion penetrates active ingredients deeply into the skin to speed up healing of blemishes, pimples and soothe redness to reveal visibly clearer skin. High frequency is also included to purify and oxygenate the skin, eliminate acne bacteria and aids in healing.

Depending on the severity of the acne, this treatment may be done in 2-4 week intervals until under control, and maintained thereafter every 4-6 weeks.

Great for: (Acne Grade 2 and 3) Stubborn cases of acne skin, cystic acne, breakouts, redness, congestion, oily skin
Product Lines Used: Luzern Laboratories, Mary Cohr
Care Recommended: one every 2 weeks till under control then maintenance once every 4-6 weeks
What Is In This Treatment?
1) Pore Cleanse

Deep Cleansing With Thermoclean Electrode
Our professional skin therapist selects a specialized deep cleansing gel customized to the skin type of the client and then pass the electrode over the entire face.
The soft heat of the electrode helps to eliminate toxins and releases the skin from excess oil (sebum).

2) Enzyme Peel
Application of 30% pure glycolic acid with five active ingredients: Kojic Acid, Blackberry, Vitamins A,C and E. An anti-aging superficial peel formulated to treat a lack of radiance in the skin, fine lines, loss of elasticity, microcystic acne, and skin imperfections.Visibly improving the skin condition without any side effects.

3) Thermal Deep Cleansing- "Sauna Effect" to soften and detox the skin
Custom deep cleansing gel formulated with plant botanicals is applied to the skin followed by a heated mask providing a "sauna" effect to the skin. This softens the skin and prepares it for the products that follow.

Heat released by the heated mask:
-Rebalances the oil production in the skin
-Eliminates toxins
-Soften skin pores to help with extraction of blackheads
-Increases circulation for improved skin renewal

4) Extractions and High Frequency

Warm gentle heat to detox the skin while increasing nutrients to the skin and hydration. Improves blood circulation, skin cell renewal, killing acne bacteria and encouraging collagen production to reduce scarring

5) Double Ionzation- active ingredients target live skin cells

Ionized Serums-Gels formulated with active ingredients (botanicals, essential oils and vitamins) are selected according to skin condition and applied to the skin. Ionization is then performed enabling the release of active ingredients (attracted by opposite charge) for better penetration into the skin where live skin cells exists.
Immediate Visible Results:
-Helps to unravel tension in the face and to drain the tissues for more rested and glowing complexion (beauty modeling)
-Skin breathes better and is more absorbent to skin care products, reduces amount of products that would sit on top of the face at the end of the facial treatment
-Skin complexion is more radiant and sharper
-Softens the skin for easier extractions of blackheads

6) O2 Infusion

Healing Of The Skin With Oxygen And Vitamins
Combining Oxygen Dermal Complex, a professional serum treatment, with PureBlue O2 Oxygen Concentrator, we treat the skin with a state-of-the art yeast (derived from plants) fermentation to increase uptake of oxygen to skin cells with vitamin peptides, multi-minerals and anti-irritant, anti-bacterial plant extracts.


The Power Detox Benefits
-Stimulates collagen synthesis to reduce acne scarring
-Relieves intensive redness and irritation associated with acne-prone skin
-Eliminates bacteria associated with acne
-Speeds healing of the skin to clear stubborn acne and blemishes
-Deeply penetrates with a super cocktail of vitamins


Contact Us
Ready to Book An Appointment? Click here to book online. If this is your first time with us, choose First Time Visit. To find out more about our Vancouver skin spa's facials, don't hesitate to contact us through our contact form