Our skin wellness team is always dedicated to finding the best beauty solutions to share with our Vancouver skin wellness clients. With a stellar beauty philosophy, powerful ingredients, and a comprehensive product line, Luzern Laboratories is one of our Vancouver skin wellness team's skin care product picks.
---
This is because great skin care doesn't stop at the spa:
Facials and skincare treatments provide beautiful results
The right at-home regimen suggested by your skin wellness team can help you maintain healthy, glowing, and rejuvenated skin between treatments and on the go
Every now and then, we find a product that perfectly aligns with our philosophy towards skincare, health, and beauty. Our Vancouver skin spa's latest pick is Luzern Laboratories.
These products:
Align with our team's goals to provide healthy, beautiful skin
Are formulated with a strong knowledge of skincare ingredients and include natural ingredients as well as pure, clinically powerful ones
Offers comprehensive skin care options that can be used together or apart go and beyond the simple "Sunscreen, Cleansers, Masques" approach
We think that this is what makes Luzern's line perfect for our Vancouver skin care clients' needs.
Luzern's Ingredients: Pure + Powerful
Luzern's array of products is formulated from pure and powerful ingredients that include both "the gold standard" of Swiss organic extracts and the absolute finest in clinical solutions. Luzern includes the highest concentrations of these ingredients and has never settled for making a "label claim" (prominently listing a sought-after ingredient on packaging while only including a minute amount in the actual product).
In addition to this, you won't find dubious or low-quality "filler ingredients" in Luzern line. It's free of sulfates, and synthetic colors and fragrances.
If you've ever tried to find the balance between harsh cleansers and all-natural options that just don't deliver results, this is the line for you.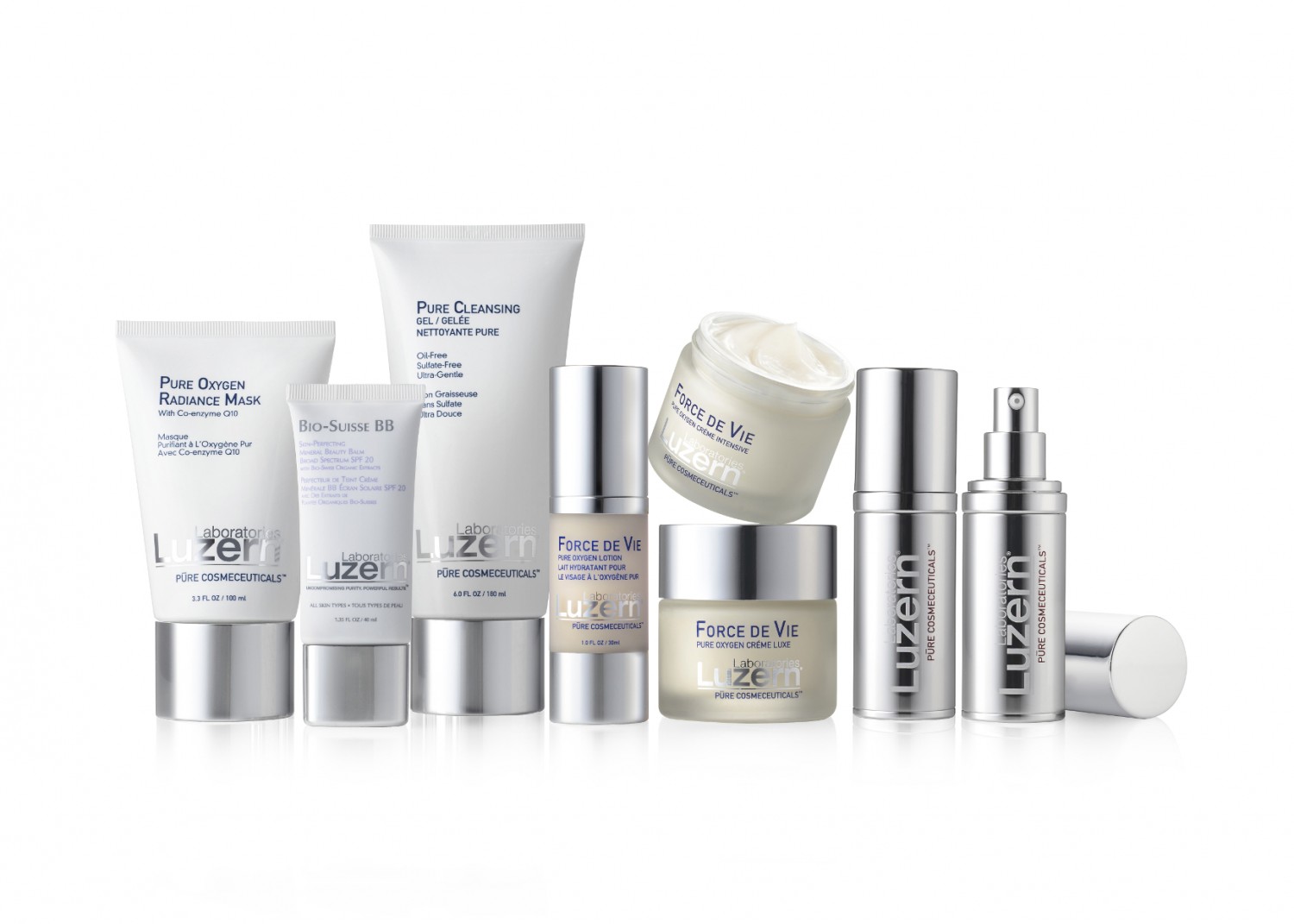 Luzern's products include high-quality ingredients such as:
Swiss apple stem cells to increase skin regeneration and eliminate wrinkles
Extracts of natural yeasts that boost skin regeneration and detoxifies skin
Extracts from red grapes and other fruits, which contain powerful antioxidants and can improve cell regeneration and circulation
Vitamin C, known for its ability to exfoliate, firm, and rejuvenate skin
Hyaluronic acid, which is found in every cell of the body and can hold 1 000 times its weight in water, which helps the skin stay smooth, hydrated, and plump
Luzern's powerful and filler-free products are perfect for a wide variety of skin types. We recommend Luzern's products to:
Anyone with sensitive skin yet more severe skin complaints
Anyone with skin prone to oiliness, frequent breakouts
Individuals concerned with or signs of accelerated aging
Anyone looking for a line to protect against UV rays, blue light, and environmental pollutants
Luzern's Product Range: Comprehensive Protection and Skin Care Vancouver Clients Love
Like any skincare line, Luzern's products include:
However, we also love that their line goes far beyond the basics, and offers options that cater to a wide variety of our clients' more specific skin care needs.
Serums for All Skincare Needs
Luzern's range of serums includes a wide array of options tailored to a variety of skin conditions. Instead of a one-size-fits-all solution, Luzern's serums target skin conditions including:
Age spots
Dark circles
Dull skin
Dry skin
Wrinkles
Rosacea
Do you a combination of skin issues? With the help of Vancouver skin care experts, these powerful serums can be combined to create a highly personalized skin care treatment.
Next-generation Sun Protection
Do you skip sunscreen because it makes your skin feel greasy? Luzern offers lightweight mineral formulas. We recommend their bestselling "La Defense Urban Protect Sunscreen", which offers broad spectrum protection and also contains antioxidants, blue light protection, and a dose of hydration.
Ready, Set, Glow! Which Skin Care Product Best Suits Your Needs?
With this chart, you can determine which products are the best for you. With professional recommendations for cleansers, exfoliants, masks, serums, and moisturizers, you're able to put together a multi-step skincare routine with a quick visit to our store. For an even more personalized skin care plan, you can contact our Vancouver skin spa team to schedule a consultation.
Skin Care Product Finder
Skin Type

Cleanser

Exfoliant

Mask

Serum Absolut

Moisturizer

Normal

Cleansing crème or Cleansing Gelee
Micro Exfoliant
System O2 Infuse Mask-Firming

V12 - This antioxidant-packed formulation also includes vitamin C, making it especially effective in treating hyperpigmentation.


Firming Collagen Booster - Collagen is a key contributor to plump and youthful skin. This serum helps provides powerful anti-aging action by protecting the skin's collagen as well as firming and lifting.

WE3 - This triple-action wrinkle eraser contains Swiss apple stem cells and peptides. Say goodbye to the appearance of fine lines!

Rehydrate - Banish dry skin with this serum. Hyaluronic acid increases surface moisture, Panthenol penetrates to plump and firm. It also contains lipids and ceramides to restore your skin's moisture barrier.

Force de Vie Crème Luxe or Force de Vie Crème Nuit

Combination/Oily

Cleansing Gelee
Micro Exfolian
System O2 Infuse Mask - Clarifying
V12 -Protect your skin against UV rays and fight visible signs of aging with this multipurpose skin care serum.

Firming Collagen Booster - This product provides a youthful lift to all skin types by protecting your skin's collagen.

WE3 - Minimize the appearance of fine lines...without injections. This effective product has been featured in publications including Vogue.

Control - Combination skin can sometimes be tough to manage, but this product delivers. It minimizes the appearance of oily skin & reduces acne bacteria/ breakouts. It prevents future breakouts by unclogging pores and diminish enlarged pores
Force de Vie Pure Oxygen Lotion or Micro Gel

Dry

Cleansing Crème
Micro Exfoliant
Hydra Enzyme Masque Nuit

V12 - A daily multi-vitamin for your skin with antioxidants to renew & protect the skin - great for hyperpigmentation.

Firming Collagen Booster - This skin care serum and firms while helping to protect vital collagen from losing its spring.

WE3 - Eliminate the look of fine lines and freshen complexion that's been dulled by environmental toxins with this luxurious serum.

Rehydrate Oil - This product is perfect for dry skin: it rehydrates without a trace of "greasyness". A pure, light oil cold-extracted with essential fatty acids, trace trans-retinoic acid, and Bio-Suisse botanicals that help to combat long-term dehydration.

Force de Vie Crème Intensive or Force de Vie Crème Nuit

Sensitive

Cleansing Gelee
Micro Exfoliant
System O2 Infuse Mask - Calming
Firming Collagen Booster -This product lifts and firms while helping to protect vital collagen from losing its spring.

WE3 - Stem cell + advanced peptide triple-action wrinkle eraser to smooth and minimize the appearance of lines.

Serum Absolut RC - Anyone with sensitive skin knows how redness and irritation can put a serious damper on your natural glow. This product calms and soothes irritated skin while preventing redness and restoring balance to the skin. We recommend this product to our Vancouver skin spa clients with rosacea.
Any Force de Vie Moisturizer based on level of hydration desired
Contact Our Vancouver Skin Spa
With incredible ingredients as well as unique and specialized products, Luzern's line is a definite skin win. Shop our store or book an appointment today!